Franchise-tagged running back Le'Veon Bell says he'll report to the Steelers on Friday, September 1 (Twitter link).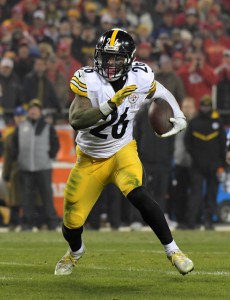 Pittsburgh had longed believed Bell would return to the club before the regular season gets underway, and now the team has a specific date, one which lands nine days before the Steelers' season opener. Bell, who will earn north of $12MM on the franchise tender (which he'll presumably sign once he gets back to Pittsburgh), missed all of training camp and won't play in the preseason, as he'll report one day after the Steelers' final exhibition game.
The Steelers reportedly offered Bell a long-term deal that would have paid him $60MM over a five-year term (including $30MM over the first two years) and made him the league's highest-paid running back by a wide margin. Bell rejected that offer, and some reports have indicated Pittsburgh and Bell's agent believed an agreement was in the offing before Bell himself nixed the finalized pact.
When healthy, Bell is clearly one of the most dynamic running backs in the NFL, as he topped 1,200 yards from scrimmage in three of his four professional campaigns. A weapon on both the ground and through the air, Bell managed 1,268 yards rushing plus a whopping 75 receptions a season ago, and scored a combined nine times.
Health, though, isn't a given for the 25-year-old Bell, as he's missed time with injury in two of the past four years. During his rookie season in 2013, Bell suffered a foot sprain that cost him three sprains, while an MCL/PCL tear sidelined him for 10 contests in 2015. He's also in the league's drug program as a result of violating the substance policy, which led to a three-game suspension in 2016.
Photo courtesy of USA Today Sports Images.